Pre-Arrival & Orientation
Pre-arrival Webinars are a chance for you to learn about how to prepare for your arrival and meet the UDayton Global campus team prior to arriving on campus.
Please join the Pre-arrival webinar for Fall 2022 semester by clicking on the links below:
Pre-arrival Webinar I: June 29th, 2022 | 8:00 AM EST
Pre-arrival Webinar II: July 26th, 2022 | 8:00 AM EST
Welcome to the family, Flyers! Fall 2022 orientation for all new students will begin from August 17th. Orientation is an important and mandatory program that will introduce you to the academic, social, and cultural life at the University of Dayton. The orientation will be in-person so please plan your travel to arrive prior to August 17th. We look forward to seeing you soon!
You Are Welcome Here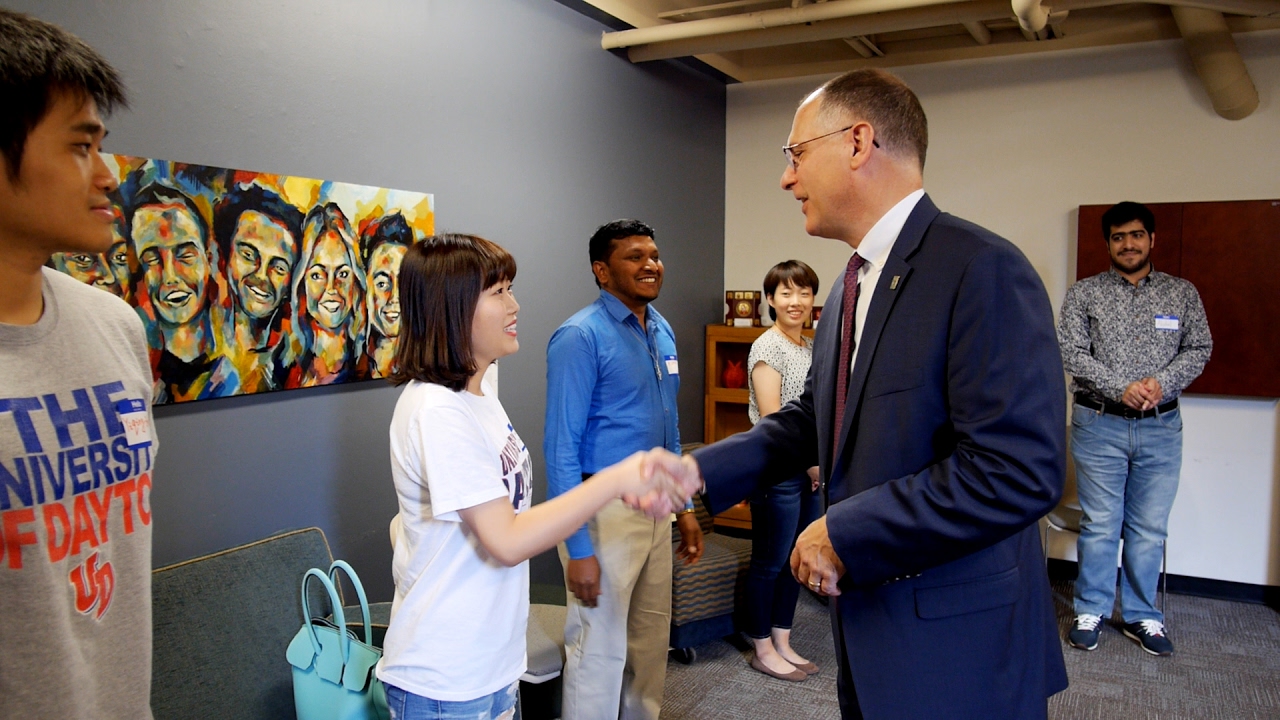 Academics
Frequently Asked Questions
Log into Porches » Go to Flyer Student Services » Click the Registrion menu » Select Student Schedule
Log into Porches » Go to Flyer Student Services » Click the Records menu » Select Official Transcript Request
Health & COVID-19
Visit https://udayton.edu/international/isss/stay-informed.php for the most up-to-date information about COVID-19 on campus.
Individuals with F-1 student visa status are required to show proof of COVID vaccination in order to enter the US. Vaccinations must align with the US's approved list of COVID-19 vaccines. Only two exceptions apply:
Student is from a country with limited COVID-19 vaccine availability (see list here ).
Student is under 18 at the time of travel.
Effective December 06, 2021 – all international travelers (regardless of vaccination status) must show results of a negative coronavirus test taken one day prior to their flight's departure from a foreign country traveling to the United States.
If neither vaccine exceptions apply to you and you remain unvaccinated, you may not be able to enter the US on the date of your scheduled travel.
For those passengers traveling under one of the above exceptions they must complete and present the Combined Covered Attestation Form to the airline at the time of departure. Passengers must be prepared to answer questions regarding Section 4 of the form and should have a clear understanding of their school's COVID policies.
Overview of the UD Healthcare System for International Students
All international students are required to maintain adequate medical insurance. Enrollment is mandatory for all International Students with a current passport and student Visa (J-1 or F-1) who are temporarily located outside their home country and are actively engaged in education or educational research activities.
Please create your Wellfleet insurance account through the link below to access your insurance ID cards:
https://www.studentinsurance.com/MyAccount/Account/Index/1947
For more information regarding your health insurance, please reach out to Divya Blakemore, Student Services Advisor at UDayton Global office on campus (212 Rike Center) or via email: divya.blakemore@udaytonglobal.org.
Frequently Asked Questions
Housing and Dining
Frequently Asked Questions
For Fall 2022, move in begins on August 16th.
Undergraduate students can access the housing contract through the housing portal.
For Graduate students, off-campus Program Managed Housing is mandatory. All new Graduate students are required to stay at UDayton Global's off-campus housing. Please find more information at our Graduate Program Managed Housing page. The housing assignments will be sent to your email prior to your arrival and your housing contract will be provided during check-in.
For more information about UDayton Global's Program Managed housing contact Divya Blakemore (Student Services Advisor) at divya.blakemore@udaytonglobal.org.
Job & Career Services
On Campus Employment: This is a benefit available to all students maintaining valid F1 status. It is not necessary to obtain special work authorization from USCIS to work on-campus; however, you must obtain an on-campus employment certification signed by an ISSS advisor to submit to Human Resources. Please review the F-1 On-Campus Employment Online Information to make sure you understand all the policies and regulations on this type of employment.
F-1 Campus Employment Information
Curricular Practical Training (CPT): CPT is a practical training that is performed for academic credit (part of the school curriculum and commensurate to degree level) AND that is required as part of the academic plan or program curriculum from ALL students in the program.
This includes:
Required internship, practicum, student teaching or field experience (paid or unpaid)
Optional internships for credit (MUST be in student's major or program of study)
Cooperative (Co-op) education programs for credit (MUST be in student's major or program of study
To learn more about CPT, you can visit the CPT information section on the ISSS website.
ISSS page on CPT
Optional Practical Training (OPT) is a period during which undergraduate and graduate students with F-1 status are permitted by the USCIS to work towards getting practical training to complement their field of studies once they have completed their program of studies. "Optional Practical Training (OPT) is temporary employment that is directly related to an F-1 student's major area of study. Eligible students can apply to receive up to 12 months of OPT employment authorization before completing their academic studies (pre-completion) and/or after completing their academic studies (post-completion). However, all periods of pre-completion OPT will be deducted from the available period of post-completion OPT."
To learn more about OPT, you can visit the OPT information section on the ISSS Website.
ISSS page on OPT
Remember that working off-campus outside of an approved OPT or CPT program is illegal!
The Career Accelerator program is an exclusive service that helps you develop your professional skills, get an internship, and launch your career. Your Career Services Manager is Brittany Chill. Click here to schedule an appointment with Brittany.
Frequently Asked Questions
You may apply for a social security number ONLY if you have been offered a job on-campus or if you have been granted practical training (CPT or OPT) employment authorization (keep in mind that practical training options are generally not available to new students). An SSN will be given to you for employment purposes only, NOT for purposes such as applying for credit cards, renting an apartment, etc. After receiving a job offer, submit the ISSS Immigration Process Request form. This form will give ISSS the information we need to create the Social Security letter. We will email you further instructions when the letter is ready to be picked up from our office.
Bring the form to your employer to sign. This must be an original (not-electronic) signature.
Once the form is complete, you can follow the instructions issued by ISSS to apply at the Social Security Office downtown.
You are eligible to begin working after you submit a receipt or letter confirming your social security number application to Student Employment.
https://docs.google.com/forms/d/e/1FAIpQLScKgY6_RFiWevCiDyQvS8tB1qsckD23ddAl2ixlcRkH_LmBQQ/viewform
Scholarships & Finances
American higher education is quite expensive compared to that of other countries. To offset the cost of tuition, scholarships and grants may be available.
It is more common to be awarded a scholarship and grants to be awarded prior to enrolling in an American university. However, there are some opportunities that you may be able to take advantage of.
Click on the link to learn more. The Free Scholarship Search Services at the bottom of the page may be especially helpful.
When considering American banks during your stay there are a variety of types to choose from.
National Banks
National banks are those such as Chase, Wells Fargo, and Citibank. There are many locations across the country, providing convenience for customers.
Credit Union
Like banks, credit unions accept deposits, make loans and provide other financial services. But as member-owned and cooperative institutions, credit unions provide a safe place to save and borrow at reasonable rates.
Online Banks
Online banking means managing your bank accounts with a computer or mobile device. This includes transferring funds, depositing checks and paying bills electronically. Because there are no physical locations, often times fees are lower and interest rates are higher than at national banks. Standard services with online banking include ATM fee reimbursement, advanced security, and high accessibility.
To open a bank account, you will be asked for a number of supporting documents for your application. These might include:
Current Passport
Proof of address- a piece of mail will usually suffice
A letter of enrollment from your college
A personal identification number
Social security number (only available if you have a job)
Student ID number
Passport number
An international ID number with photo identification
Individual taxpayer identification number
If your visa has been denied, please work with your Enrollment Services Advisor to receive a refund for your deposit.
If you have overpaid for tuition or other expenses, please contact the UDayton Global Managing Director, who will work with you to either return funds to your bank account or to apply funds to the next semester's tuition. Refunds take approximately 45 business days (6 weeks) to process.
More information about refunds is available in the Enrollment Contract under Tuition and Fees: Refunds
Frequently Asked Questions
Please contact the UDayton Global Managing Director to get a receipt for tution and other fees.
Progression
Once you complete your UDayton Global program you will progress and several important changes will occur.
Billing
After you progress from UDayton Global, your tuition and fees will be paid directly to Flyer Student Services through your Porches account in My Payment Center.
Health Insurance
According to university health requirements, all international students are required to have health insurance coverage while enrolled (including vacations). Please note the expiration date of your insurance policy. After you progress, you will have the opportunity to renew your current policy, and we will gladly support you in doing so.
Academic & Career Advising
Going forward, you will rely on the academic advisor for your major and the ISSS office for advising. If you do not know who your academic advisor is, please contact the Academic or Student Services team and they will gladly help you with that.
Career advising and Career Accelerator information will be available after you progress. Please contact Brittany Chill to schedule an appointment.
Center for Academic Success
Develop your English language, math, and overall academic skills and gain the confidence to succeed in your US university classes. Improve your study habits, prepare for exams, and get your questions answered: Our helpful tutors and counselors are here to support you, every step of the way.
Alicia Coe
I am Alicia Coe. I have been teaching English for academic purposes and critical writing at several universities in Europe and the United States for 17 years. Apart from teaching, I work as a curriculum developer, a writing consultant for undergraduate and graduate students, a copyeditor, and a Cambridge examiner. I am experienced in teaching international students; therefore, I can provide different learning approaches depending on the cultural background of each student.
Amanda Wilcox
I am Amanda Wilcox. Originally, I hail from Macon, Georgia where I studied Biology and Spanish at Mercer University. After teaching foreign language for about 5 years, I began a master's degree at Auburn University. Upon graduating, I continued to teach Spanish at the university and eventually began teaching in the ESL department where I found my calling. I have been involved in teaching, tutoring, and curriculum writing for international students learning English ever since. In total, I have nearly 20 years of experience teaching all ages from young children to adults in an academic setting.
Sedighe Zamani Roodsari
Sedi has degrees in English, Linguistics, and Adult Education and a background in English as a Second/Foreign Language is a language teacher and teacher trainer. Her background as a multilingual teacher trainer had granted her novel opportunities in teaching and teacher education through the lens of diversity and just education for culturally and linguistically diverse students. Her research focuses on pre-service and in-service programs to better support culturally and linguistically diverse students in the U.S education system. She has been certified in ESOL & English Language Arts, Program Evaluation, TESOL, Adult Education, Educational Assessment in Theory and Practice, Modern Motivational Theories in Effective Teaching, Teaching Methodologies for Young Adults, Meaningful Paraphrasing/ Summarizing, Emotional Intelligence, Being a Reflective Teacher, and Communication Psychology during her academic life.
She has been a Research Assistant of Educational Foundations, and a Teaching Assistant of Teaching English as a Second Language, at the Department of Teaching and Curriculum at Auburn University, Alabama. She had worked in public schools as an English Teacher, Art Teaching Assistant, and Substitute Teacher in all content areas in Auburn & Opelika, Alabama. She was an English Instructor and Placement Expert in all age groups while teaching both undergraduate and graduate courses. She has also been a multilingual Translator and has publications in the fields of Education and psychology. She has served professionally on Presidential Task Force Subcommittee on Graduate Students in Auburn University, del Este Presente in Alabama Immigration Council, and Graduate Council Senator (GCS) in Auburn University.
Dipen Bhuva
Dipen Bhuva is a PhD student in Computer Science at Cleveland State University, and a Masters graduate from Northeastern University in Information Security. He will be happy to help with any problems and solutions related to computer science: Programming, Networking, Server engineering, Cloud, Statistic, Advanced Mathematics and Cyber Security – he is also a certified Network+ by Comptia, Certified Ethical Hacker, RH-11 Expert Hacker, RedHat Server Certified Engineering and Amazon Web Service (Cloud) certified. For his 'extraordinary dedication and teaching' he was granted 'excellent achievement for Graduate Assistantship' from CSU.
To schedule appointments with the following tutors, please click on the 25 or 50-minute sessions below. Please book 24 hours in advance to provide your tutors ample time to prepare for the session.
Academic writing – generating ideas, organizing, summarizing, paraphrasing, revising/editing
Research skills: Finding credible sources and academic articles
Understanding academic integrity; avoiding plagiarism
MLA & APA citations and format
Academic presentation preparation and practice
Time management – weekly planning, semester-long planning
Reading strategies
Note-taking skills
Test preparation strategies
Class and groupwork participation strategies
Discussion skills
Grammar rules and practice
Academic communication etiquette – emails, office hours, requesting letters of recommendation
Business writing – emails, reports, meeting summaries
Career development – resume and cover letter writing
Building math confidence for students who struggle with math
General and Foundational Math help at any level
Calculus including Calc 1 and Calc 2
Algebra and Linear Algebra
Topology
Discrete Math
Category Theory
Algorithms
Differential Equations